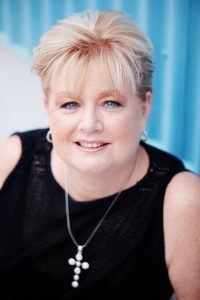 We have the great privilege of having Sue Hartley as our guest speaker at the Her Heritage Ladies breakfast on Saturday 17th March. Cost is only $15.00 so register today
Sue's passion is to train, encourage and empower people in their life's journey, and release them into the fullness of life.
As a pastor, mentor and teacher, she has a unique ability to identify potential in people that are often overlooked and walk alongside them as that potential comes to life.
Having spent more than 30 years in the education sector, including 17 years as an early childhood teacher, Sue's professional expertise has been a significant driver in the development of Daughters of Promise ground-breaking experiential training. Her love of the creative arts has also strongly influenced the diverse and innovative programs.
In 2003 Sue founded Higher Ground Creative Ministry. Successfully running for over 12 years, Higher Ground trained, mentored and equipped young people in leadership and ministry using the creative arts. Many of those young people today are in leadership roles within our community.
She first wrote the Daughters of Promise program in 2006. It was borne out of her passion to see women healed, restored and embracing their purpose and destiny. Driven by the belief that you're past does not define your future. Daughters of Promise champions women through a highly supported program as they learn about their unique worth and value. Each program creates a safe environment where they can experience healing love and acceptance, regardless of their journey.
In 2012 Significant Woman was first developed and delivered. Recognizing the need for intensive and focused training. Significant woman helps participants gain a greater clarity and empowerment around their purpose and call.
Sue has three adult sons, two beautiful "daughters in love"  twin grandchildren, and another precious grandson. She loves being part of raising the next generation.
Register now for the Her Heritage Ladies breakfast on Saturday 17th March
[mp_button icon_position="left" text="Register Now" link="/her-heritage-registration/" btn_bg="show" color="#2b96ba" open_type="_self" lightbox_width="500″ lightbox_height="500″]