Church is more than the building that we meet in and for the time being Church is wherever you are this Sunday. You are invited to join us for our first Sunday Morning Online Service. We will be having Praise and Worship as well as a special word from our Lead Pastor Shaun Smit.
It will be a little different but we wanted to give you some useful information and tips on how to be part of Church this weekend.
For those of us that are less tech savvy, we encourage you to ask a family member or a friend prior to Sunday to help you get setup or show you how to get online and be part of Church.
Ways to Watch Us
Yes it's as simple as CLICKING one of the links below:
https://www.youtube.com/hfccchurchgc – We regularly Live Stream our services already on You Tube but we encourage you to Subscribe to our channel and you will be notified that we are LIVE
https://www.heritageoffaith.com.au/live – Join us on LIVE on our website where you will also find ways to give and other information about what is coming up.
https://www.facebook.com/hfccchurch – For the first time we will be streaming to Facebook LIVE. If you don't already Like our page, we suggest you hit the Like Button and stay up to date.
Essential Checklist to Get the Best out of Sunday
Grab your bible and notepad as you would for any other Sunday.
Prepare something for Communion and have it ready to share with us at the appropriate time.
Gather your family before the service and log on to the service shortly prior to 9.30am. If you have a large TV at home gather there.
Try to remove as many distractions as possible and pray before the service together as a family.
Worship with us!!! Sing his Praises!!! Enter into His presence. Yes it may seem a little weird at first but God doesn't just live at Heritage of Faith, He is with you wherever you are.
Connect and engage with us during the service with live chat, comments, likes, respond to the message. Maybe take a picture of you watching the service and send it to us.
Giving at Heritage of Faith
Each Sunday we will be bringing an inspiring offering message as we would every other Sunday. We still encourage to bring your tithe's and offerings to the storehouse via our newly launched ways to give.
You can give securely and safely online at heritageoffaith.com.au/giving which will also give you our EFT details.
BSB – 084 462
ACC – 540 944 168
Account name – Heritage Church
We also have our Text to Give available by texting the word GIVE to 0488 856 670.
You can also call our office during office hours Tuesday to Friday and speak to one of the team to give over the phone. Our office number is 07 5576 5534.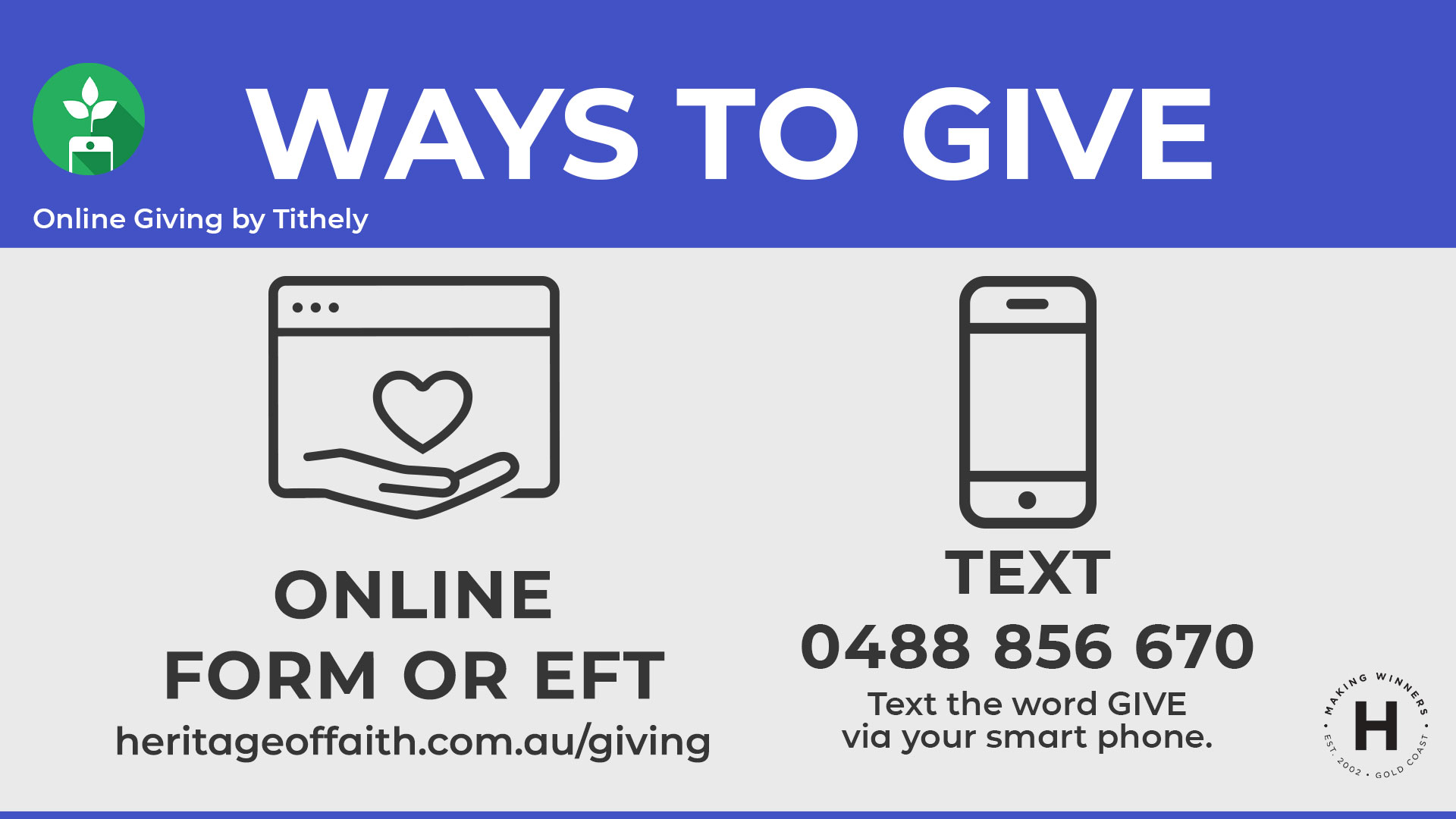 Prayer Meetings
We will still be continuing to hold our weekly prayer meetings online each week starting next Tuesday evening at 7pm. We will hold these online on our Facebook Prayer Group. To join the group simply click the following link OR search for 'Heritage of Faith Prayer Group' on Facebook.
https://www.facebook.com/groups/hfccprayer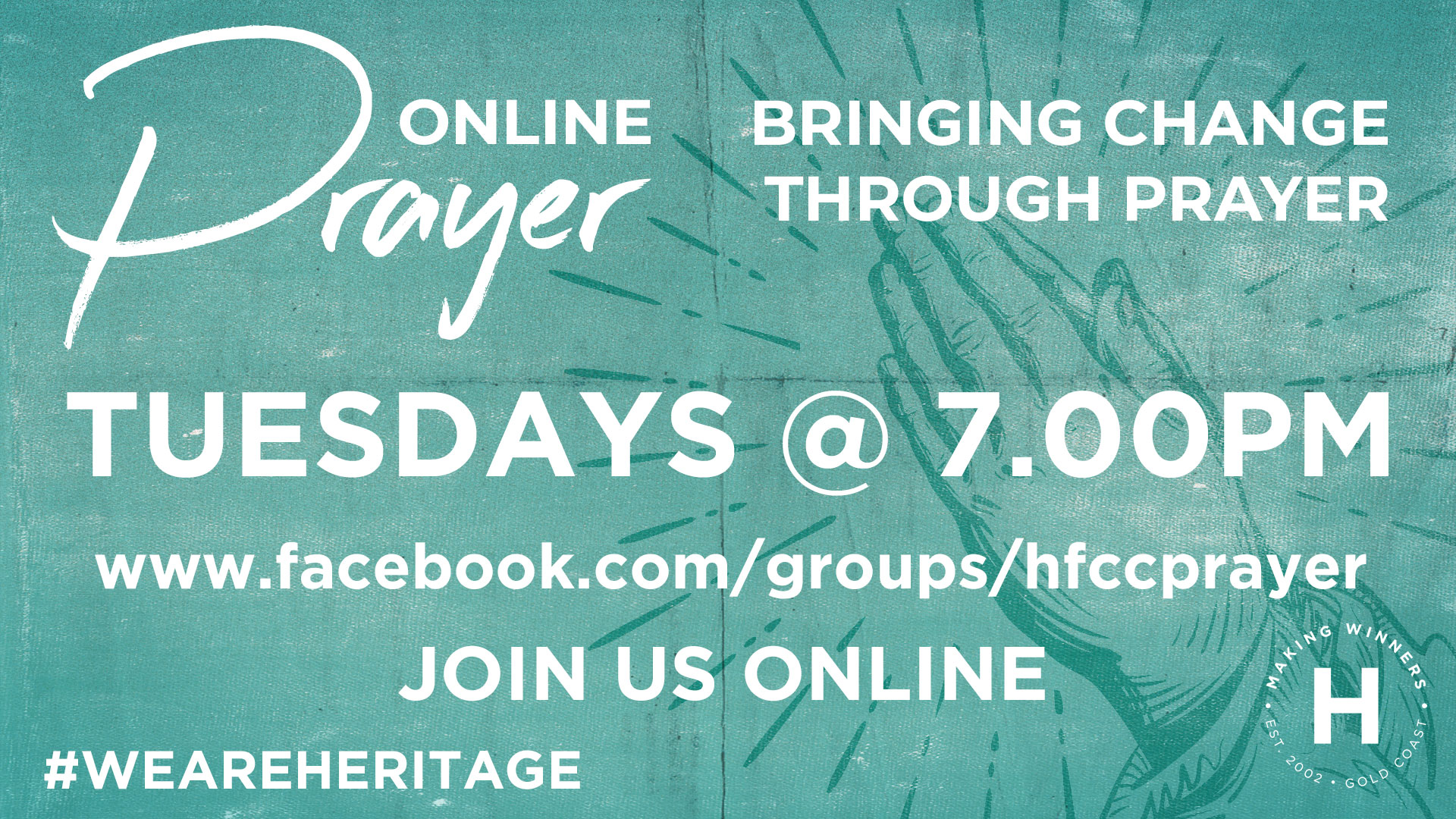 Lots More Coming……
We have lots of plans for new and exciting ways to connect, engage & teach you throughout the week online with our Leadership Group. Stay tuned for Sunday to find out more including:
A Weekly Online Thrive Group with Ps Shaun
Faith Filled Moments with Ps Ian
Weekly Bible Mentorship with Ps Tony
Heritage Kids Online – Don't worry we havn't forgot about our Kids.
Stay Connected
Don't forget to stay Connected and follow us on all our social media channels.
If we don't have your contact details to stay in touch, please let us know: https://www.heritageoffaith.com.au/update/
If you need prayer during this time, please contact your Pastor. If you do not have their number, please contact the office on 07 5576 5534 and we will put you in touch with them. You can also use our prayer form on our website: https://www.heritageoffaith.com.au/prayer-request/