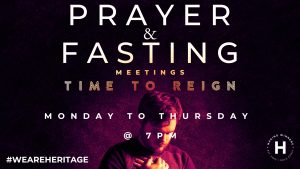 Sunday past we have just had Vision Sunday 2020. It was a great time to reflect on our Church DNA, 2019 wins, as well as what we are believing for 2020. This week is Prayer and Fasting Week.
In Matthew chapter 6 verse 1-17, Jesus touched on 3 keys areas in the life of His disciples which is relevant for us as believers today in 2020. He said when you GIVE, when you PRAY and when you FAST. This was not an "if", rather a "when". This tells me that in Jesus' mind and heart, these three acts are to be incorporated into a believer's lifestyle and should not be a foreign practice amongst believers today.
2 Chronicles 7:14 NKJV "if My people who are called by My name will humble themselves, and pray and seek My face, and turn from their wicked ways, then I will hear from heaven, and will forgive their sin and heal their land."
We need to seek God in Unity as a Church in what I believe is a crucial season in the life of the church, to take hold in the Spirit of everything God has for us as a Church and individuals. Denouncing every evil work and scheme that the enemy has released to try hold us back.
Join us this week in a time to set aside our agendas and press into our Lord's agenda in the life of our Church family.
We will be at our Church auditorium each evening from 7pm-8pm, Monday through Thursday, praying over specific topics that the Lord laid on my heart to be focused on each day on. Below is an outline of the specific areas we will be focused on each day as a church family, in one accord, one mind and one heart.
"Where there is Unity, God will pour out the Blessing." 
Monday: 
– Break Strongholds, (Witchcraft, False Accusations, Deception, Discord, Limitations)
– Cover Church Leadership (Pastors, Administrators, HOD's, Thrive Group Leaders, Volunteers)
– Boldness (Members desire to reach and invite people to Church)
Tuesday: 
– Finances (Church, Businesses, Individuals)
– Marriages (Covenants, protection, wisdom)
– Individuals find their place in the Body (Gifting and Callings)
Wednesday: 
– Anointing and Direction for Worship Team.
– Revival in Congregations Hearts.
– More Freedom to Praise and Worship in our congregation. (Revelation)
Thursday: 
– Church Vision 2020. (Prayer of Agreement for Needs)
– Supernatural Increase (Finance, Relationships, Health).
– Time to Reign (Receive Grace, Righteousness & Identity in Christ).
We will break Fast on Thursday evening with some light snacks afterwards.
God Bless
Ps Shaun & Megan Smit
Lead Pastors